Kitwe is Zambia's third largest city after Lusaka and Ndola. Explore Kitwe on the Map:
Car Hire in Kitwe
Kitwe has a number of car hire companies. They normally stock normal cars and off-road vehicles for touring the country side.
Urban roads are undergoing extensive repairs, but pot holes are still waiting to trap the unwary driver.
Compare prices and choose the best deals before committing yourself.
Europcar Kitwe Car  Rentals…………………+260 212 225056
Flyways Car Hires and Tours …………………+260 212 20434 / +260 97 7711076
G.N. Tours and Car Hire Ltd. …………………+2260 212 30733
Luxline Car Rentals.…………………+260 212 23674
Omkas Car Hire…………………+260 212 23962
Richbel Car Hires and Tours…………………+260 212 26116 / +260 212 25222
Voyagers / Imperial Car Rental…………………+260 212 29102
CLICK ON TOUR MAP TO SEE PHOTOS/VIDEO FOOTAGE: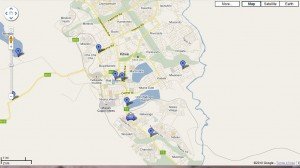 View Kitwe Online Tour in a larger map
Photos include areas such as Chamboli, Wusakile, Nkana East and Kalulushi road and areas in between.
Places of Interest in Kitwe
There are places of interest it is worth seeing while you are in Kitwe. These include:
Mindola Dam and Boating Club
Chembe Bird Sanctuary
Mwekera Falls and Lake
Chisokone Market
Chisokone Crafts Market.
Outside Kitwe, there is an even wider range of choice TOURIST DESTINATIONS.
Remember to post your comments and experiences in the INSAKA-FORUM. We want to hear from you and share your thoughts about Kitwe, and Zambia in general.