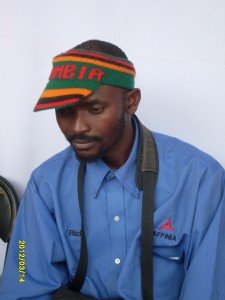 At daybreak, people can be seen criss-crossing the busy Kitwe city centre business district. Some are rushing to work, while others are rushing to take vantage points for street vending.
Another group of people can be seen wandering about the memorial square, popularly known as Kaunda Square. They are the Kitwe commercial photographers. Kitwe Online caught up with one photographer at the memorial square to find out what goes on in a day's work of a photographer.
Q. What are your names?
A. My names are Paul Simwendo. I'm a photographer and I Live in Kwacha.
Q. When did you start photography?
A. I started photography about 12 years ago.
Q. Who taught you how to take photographs?
A. There was a small camera at home, which I used to practice with. I could take pictures of family members.
Q. How does a first time photographer get customers, given the level of the competition here at City Square?
A. The first people that you take pictures of, become your regular customers. That is how it starts. Then eventually those will start introducing their friends to you and so on. But then, above all there is no substitute to taking quality photos if one has to have a good customer base.
Q. Who are your major clients?
A. Our major clients are women. Women appreciate photography. Just like a woman enjoys spending much of her time in front of a mirror, so she enjoys seeing her image in the picture. Ladies are particular about their beauty. They always want to appreciate themselves and be appreciated by others.
There is no one who budgets for photographs, yet you see us taking pictures of women daily. They save a little bit from the money for groceries at the market to have their photos taken.
Q. Do you always take pictures from here?
A. In most cases yes. There are times when we go out to take pictures at events such as weddings, graduation ceremonies, baptism and so on. A photographer must always be on the lookout for events if one is to stay in this business.
You need to know what is happening around town. You see, some photographers go as far as Kabwe or Ndola to take pictures. Like this time when the Africa cup will be touring major cities. Some among us will go to places such as Ndola, Kabwe, Solwezi, and Mansa etc, just to go and take photos of people who want to pose with the Africa cup. In some of these places, there are not too many commercial photographers who hail from there.
Q. What are the major risks associated with photography?
A. Ah! Bamudala (big man) there are too many risks in this business. One has got to be morally strong to overcome a lot of trials and temptations. There are female clients who would call you to take pictures of them, yet they are not ready to pay for them. When you ask for payment after developing their pictures, they will ask you to sleep with them as a way of payment.
Some women would invite you to their homes to take half naked pictures of them. Now you know how weak we men can be under those situations. There is money in photography but others have ended up spending all that money they have made on women. So many photographers that I know have died of AIDS related illness.
Q. Are there any confrontational encounters that a photographer can experience?
A Yes there are several encounters. The most common ones are where you show a picture of your clients to another person. Some photographers have shown a picture of a woman and a man taken in a compromising pose, not knowing that the person being shown that photo could be related to either of the persons in the photo.
One photographer did not know that he was showing a photograph of a married woman and her boy friend, to her husband. The man insisted that he pays for the photograph and be given it. He fought the photographer and managed to get the picture. It was such a nasty scene. They ended up at the police station. That is why I don't show such pictures to people who are not the owners. It is recommended that as a photographer, you only display photos that have only one person in the picture.
The other confrontation is when you attempt to take a picture of someone without their permission or when you take a picture of a property that is restricted. For example, if you take a picture of an army barracks you can be in trouble.
Q. You have mentioned the police in resolving an issue, are there times when a photographer can provide photographic evidence to the police?
A. Yes there are times when police can use your photos for evidence. I have not had that experience myself but I have heard that from some friends who have told me that their pictures were used for evidence.
Thank you Mr. Simwendo it has been a pleasure talking to you.
I followed up on the matter of the police using pictures taken by a commercial photographer as evidence. When I spoke to a legal expert, he told me that pictures taken by a commercial photographer can be used as evidence, if such a picture was taken exactly at the time when a crime was being committed or when the event such as an accident happened.
He said that the Police have a unit of police officers who are trained to take pictures for forensic evidence. Pictures taken by a commercial photographer after an event has occurred cannot be admissible as evidence, according to the legal expert.
_____________________________