Let's Cook with Bubala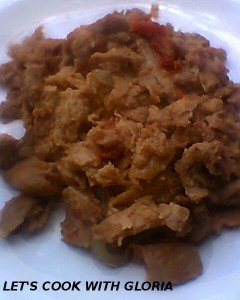 This is a delicious Zambian vegetarian dish.
You will need:
1 packet tasty soya pieces (125g)
1 medium sized tea cup for measuring cooking oil
1 medium bowl
Ingredients:
2 medium ripe tomatoes
1 medium bulb onion
1 tea cup cooking oil (cholesterol free)
white pepper
salt
Servings: 4
Method:
Put 500mls lukewarm water in a medium sized bowl.
Pour the soya pieces in the lukewarm water and soak for 10 minutes.
Heat the cooking oil in a sauce pan or medium pot.
Put the soya pieces in the cooking oil.
Start frying, until crispy brown.
When you are using a stove, you can fry for 15 minutes but if you are using a brazier, you can fry for 20 minutes.
Grate the onion and the tomatoes and add to the soya pieces.
Allow to cook for 5 to 10 minutes.
Stir gently.
Add salt and white pepper to taste.
Add 2 tea cups of water and simmer for 10 minutes.
Stir gently.
Remove from the heat and serve with nshima or rice.
This meal is suitable for both vegetarians and meat lovers!!!