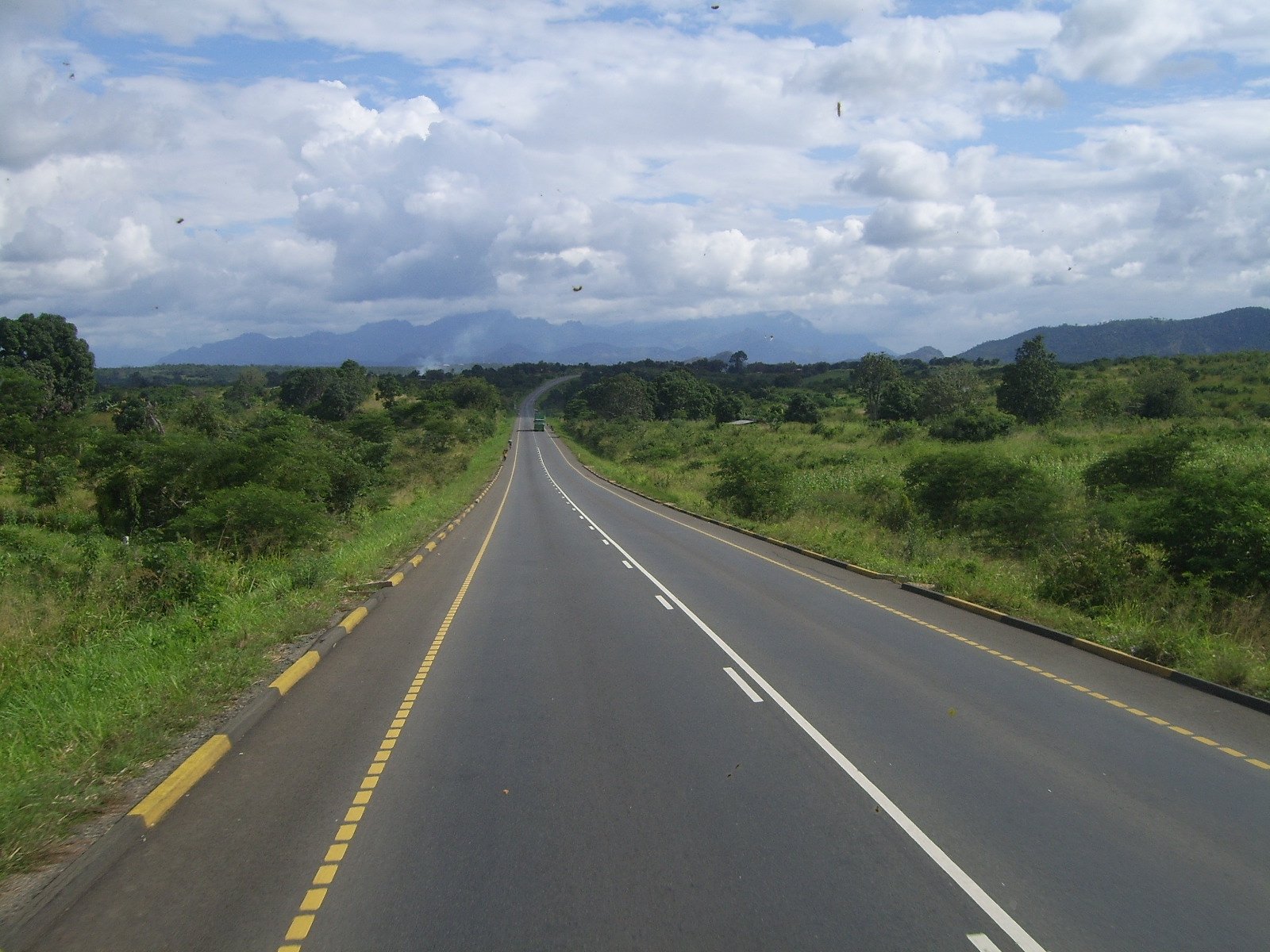 A Road
Introduction: Every street in Kitwe tells a story. Have you ever wondered how your street got its name? Who gave it the name and why? Why have some street names changed?
This series on Kitwe Street Names will be exploring some of the stories behind our old street names as well as the new street names. If you know the story behind your street, or any other streets in Kitwe, you can share your story here. Write your comments in the box below or send us an E-mail.
Before And After – Kitwe Street Names (1961-2011) compares street names between 1961 and 2011 and tabulates the ones that have changed.
Most street names can be divided into two or three parts:
SPECIFIC:
eg. Kantanta
GENERIC:
eg. Street, Avenue, Road, Way, Close, Terrace,  etc.
OTHER:
eg. East
The Meaning Of Generic Street Names:
* Street – "A street is a paved public thoroughfare in a built environment. It is a public parcel of land adjoining buildings in an urban context, on which people may freely assemble, interact, and move about." (source: http://en.m.wikipedia.org/wiki/Street)
* Road – "A road is a thoroughfare, route, or way between two places, which typically has been improved to allow travel by some conveyance, including a horse, cart, or motorized vehicle. Modern roads are normally smoothed, paved, or otherwise prepared to allow easy travel, although historically many roads were simply recognizable routes without any formal construction or maintenance." (source:http://en.wikipedia.org/wiki/Road)
* Avenue:  "A common part of street names, often for roads with lines of trees on either side. A common name for any mediumly-high capacity road." (source: http://en.m.wikipedia.org/wiki/Avenue)
From the above, it is obvious that as a town increases in size, what was once a road between two places may well become engulfed in an expanding town, thus functionally becoming a street. It's original name may remain unchanged. In other places the distinction is blurred from the start. This makes it difficult to tell whether a road is really a road or not.
In future, Kitwe will expand and merge with Kalulushi. This could lead to one big city having two streets with the same name. This has happened in big cities like London where different villages have been engulfed by one metropolitan center.
Most traditional Zambia villages were constructed without a specific street plan. Places were given descriptive names, usually of the local chief or the original family that settled in the area, the local geography, a past event that took place there, or some other name. Foot paths were usually named after the destination. 
The concept of formal street names was introduced into Northern Rhodesia by the settlers who came mainly from Great Britain. The names tended to reflect the way streets were named back in Britain and the indigenous people had no say in the decisions.
Inspiration for street names tend to include:
1. Famous local people
2. Famous people of world renown
3. A feature that existed in the original location
4. An activity or trade that took part on that street
5. A geographical feature
In Kitwe, as in other towns in Northern Rhodesia, there was segregation of living areas and shops. Some areas were designated "Whites Only" areas and others were for "Blacks Only." The settlers therefore felt more comfortable naming the streets they lived in after the streets they had left back home. Kitwe thus had names like Oxford Street, Queen Street, Regent Street and Amazon Crescent. After independence in 1964,Kitwe saw the introduction of new street names for the old. This phenomenon is not unique to Kitwe. Towns in other parts of the world have changed street names for different reasons, including:
1. The name becomes associated with controversy or painful memories for the community
2. Attempts to erase history
3. In honour of a famous son or daughter of the city
4. Political changes.
One of the disadvantages of changing street names is that people tend to forget the history of the place, being aware of only the current name. As a community matures, it tends to treasure the oldest names and tends to retain them.
Evolving technology will also lead to more citizen participation in civil affairs. It is now conceivable that when civil leaders are going into a meeting to deliberate on street names they will have all their constituents voting by mobile phone and the leaders will know which name is most popular.
The following table shows Kitwe street names in 1961 in the column titled "Old Name." Where the name has not changed, the name appears in bold letters.
We encourage you, our readers, to send in information about the street you live in or know about. This will help us complete this task of documenting Kitwe's old and new street names.
To see if your street had a different name in 1961, check out the table below. 
 Accra

 Road

 Chendaeka
 Close

Luela

Street

N.B. —* Not named on Map.

= Not on May 2011 Google Map

= No Change in Street Name
Some of the street names in the current Google map for Kitwe need to be corrected. You can make corrections or include your street name in Google Maps directly, or you can leave your comments below.
KitweOnLine will compile the names and submit updates to Google Maps as we have done in the past.
The map below shows some of the old street names in Kitwe in 1961.
Zoom in and Click on a balloon on the Google Map to read the old street name label.

You can also click on the balloon that will appear on the left side if you want to see where the name appears on the map.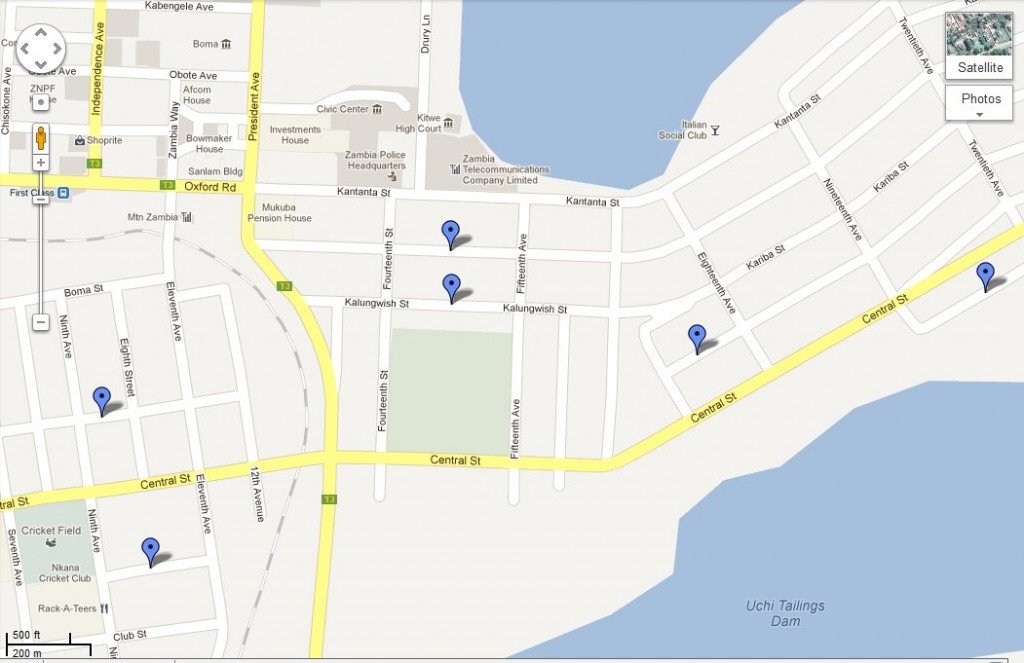 View (Old) Kitwe Street Names in 1961 in a larger map
Remember, If you know the story behind your street, or any other streets in Kitwe, you can share your story here.
Write your comments in the box below or send us an E-mail.
__________________________