Copper cross ingot used as currency in Central Africa
Kitwe is located in the land of the Lamba people of
Zambia
. The origins of the Lamba-Lima People of Zambia is from the Bantu stock migrating southwards from the North. Lambas are found in The Democratic Republic Of Congo and in the Copperbelt Province of Zambia.
Dr Francisco Jose Maria de Lacerda, a Portuguese scientist and explorer, mentioned the Lamba people in his diary of 1798.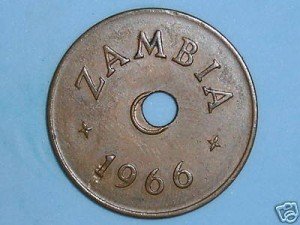 The Lamba people engaged in Iron Age
mining
and traded in copper and ivory. (There is evidence of Iron Age mining all the way down to South Africa).There was a booming slave trade locally with the Portuguese and Arab traders from the North East.
The Bechuanaland(of the now Botswana) Exploration Company, the Northern (North of the Zambezi) Copper Company and the British South Africa Company had laid claim to all minerals that would be found in Northern Rhodesia (now Zambia).
The Copperbelt was merely regarded as an access route for the railway line leading from the copper mines in the Congo to South African ports. It wasn't known, then, that there was a rich seam of copper ore running from the Congo into Northern Rhodesia.
In the 1920's George Gray, an English prospector was travelling north from the Victoria Falls. He was welcomed by chief Kansanshi who also showed him the mines that local people had worked for several generations.
The discovery of copper at Bwana Mkubwa led more British prospectors to take an interest in the Copperbelt area. Independent prospectors found the deposits at Nkana and at Chambishi.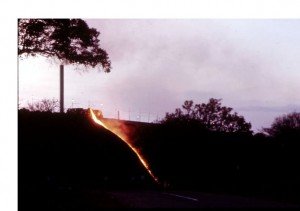 Pouring of the copper slag – Wusakile at dusk
The deposit at Nkana was near Chief Nkana's village and was named Nkana Mine. The Chambishi deposit was named after the Chambishi River nearby.
As to the origin of the name KITWE, one of Kitwe's senior citizens, Mr Cobrey JBK Chiumya explains:
"
Kitwe is the central mining town on the Copperbelt of Zambia. Originally, this area was known as Lamba Land – Lamba being the language of the people found in this area.
Before the coming of the white man, the Lamba people found a very big head of a dead animal near the river bank. They called it "Ichitwi" or "Ichitwe" – meaning "a big head."
Eventually, after the coming of the white man and other tribes from neighbouring countries, the name changed to KITWE.

The river which today bears the name Kitwe originates near Chibuluma. It runs east through Nkandabwe township, Buyantanshi, and through the industrial area of town. After running between Parklands and Kitwe Town Center, it joins the Kafue River east of the city."
Video shows Kaunda City Square and pouring out of copper slag at Wusakile slag dump.