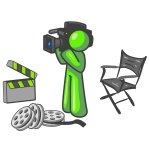 Great excitement accompanied the first showing of a public film in Northern Rhodesia in 1928. Through the 30's to the early 1960s miners on the Copperbelt used to enjoy outdoor cinema, the "Bioscope".
When the truck drove up to an open space in Chamboli or Wusakile to set up for the evening show, it was a very exciting prospect for children and adult alike.
Varied evening shows consisted of documentaries, news reel, cartoons and Western movies. At the end of each segment the projector would run out of film and a new reel would be loaded while everybody excitedly awaited the next reel. The noisiest parts of the show was the cowboy movies when everybody would shout at the top of their lungs each time a cowboy landed a punch on another. You could hear the screaming fans from any part of Chamboli for the Chamboli shows.
The Astra Cinema was opened in 1950 on Matuka Avenue (opposite Shoprite which was then called OK Bazaar) by Northern Rhodesia Cinemas. Astra was followed by other cinemas in Chingola, Ndola and Bancroft (now Chililabombwe). These cinemas were racially segregated. An African cinema, opened in 1958 by Northern Theatres, was located in Buchi township.
Beyond any shadow of doubt, these films made lasting impressions of children growing up with this new technology. Some have grown up to be script writers, others are actors and directors. Progress has been slow. Other parts of Africa, such as Nigeria and South Africa have also come a long way.
Zambia now has its own share of movies and film makers. Still a considerable way from competing with Hollywood and Bollywood, Zambian cinema is nevertheless benefiting from interactions with film makers from all corners of the globe.
One of the first movies ever filmed in Zambia was "A Touch Of The Sun" starring Oliver Reed. Filmed in 1978, the movie featured local talent including:
Edwin Manda as Emperor Sumumba (Edwin had a booming deep voice and was a real gentleman to those who knew him. He was in charge of the Zambia National Dance Troupe. Manda Hill in Lusaka is named after him).
A. M. Phiri as chief Zawie, Benjamin Shawa and Friday Nyamba as Emperor's aides.
Others local members of the cast were:
Helen Mulala, Theofistor Mulwanda, Mar Mulwinda, Donnie Mukwakwa, Richard Kanyoza, Joseph Mivonya, David Kawandami, Rabbani Sumbukani, Charles Kanyangiwi, Stephen Sakala, Mike Seko, Kennedy Daka, Denis Mikayo, Mwila Mwanea, Ignatius Mwanza, James Mbowo, Davis Kuwolo, Mulota Luyanga, Christopher Muambwa, Kenneth Mulopo, Stanley Phiri, Patrick Winduna, Joseph Mwonya, David Sunga, Leonard Soko, Mary H. Jalamimba, Trica Montah, Juliet Mulwanda, Joy Wyalugwo, Agnes Whwato Luo, Scholastico Chilaske, Mabel Guilongo, Yvonne Mbao, Terry Mutteto, Marcy Banda, Davis Mdawa, Jool Nyoni and Guy Mulonga.
A Touch Of The Sun was never shown outside Africa. By Hollywood standards, it did not make the grade. For a lot of Zambians, however, it was a glimpse of things to come, and a very proud moment in time.
There are a lot of writers and actors who do not always get a chance to show their talent because the film industry has tended to be a closed community to outsiders. This is changing with the opportunites offered by YouTube and increasing international interest in Zambian talent. Some script writers and actors have been able to represent Zambia at international fora in Africa and Europe.
Musola Catherine Kaseketi is one of the current film makers in Zambia with a captivating story and a message in her movies. We look forward to seeing more of her work.
Suwi – Faith Beyond Limit
Musola Catherine Kaseketi Talks About Suwi:
____________________________________