This week saw the application window for tickets for spectators to events at the 2012 Olympic Games in London come to a close and for most sports fans and the athletes across the world currently preparing for the Olympics next summer, it was a gentle reminder that the games are upon us.
On the 27th of July there will be exactly a year until the London Olympics and for Zambian athletes in particular the focus will now be stepping up their training in order to be in contention for a once in a life time opportunity to represent Zambia in the biggest sporting event on the globe.

The Beijing Olympics of 2008 saw eight Zambian athletes compete across four events. Eli Mambwe, Racheal Nachula, Cassius Chiyanika, Precious Makina, Tony Wamulwa, Ellen Lendra Hight, Hastings Bwalya and Zane Jordan.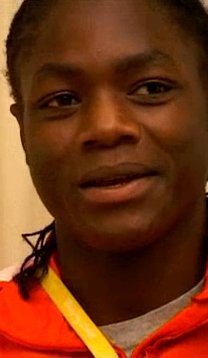 Zambian runner: Rachel Nachula
Zambia's best performance in 2008 came from Rachel Nachula who earlier in the same year set a new Commonwealth Youth Games record by running 52.97 seconds over 400m. In Beijing she went on to reach the semi finals of the 400m finishing 8th with a time of 52.67 seconds which wasn't enough to see her progress to the finals. In 2012 the Zambian hopefuls will be hoping to improve on their performances, but for now, preparation continues for the Olympic trials to come.
The Zambian U-23 footballing team still remains in contention for the chance to play at the 2012 Olympics after beating Rwanda 0-1 in a qualifier in early April, winning 3-0 on aggregate after a 2-0 victory in the home tie at the Nkoloma Stadium the previous week. Chipolopolo now face a two legged tie against Algeria to progress further, a fixture described as "Tough but exciting" by head coach Lucky Msiska.

It's also been a positive month for Judo athlete Mathews Punza who qualified for the games next summer after impressive performances throughout the competitive calender saw him accumulate enough points to qualify. The Zambian Judoka is a previous Gold medalist at the 2006 Commonwealth Games in Australia and is currently training for 2012 in Algeria in the hope that he can reproduce some of that form in London next summer.
Keep checking Kitweonline.com for regular updates on the progress of Zambia's athletes in the run up to the London 2012 games.