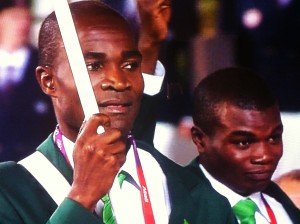 Prince Mumba – Flag Bearer
With the 2012 Olympic Games finally underway, we shift our attention to the Zambian hopefuls that have made their way to London in the hopes of returning with a medal.
The spectacular three and a half hour opening ceremony last Friday saw Zambia emerge as the 203rd out of all 205 competing nations to be greeted by the 80,000 capacity crowd at the Olympic Stadium in East London. 27 year old runner Prince Mumba was the proud flag bearer in front of a global television audience of over one billion people.
We had to wait until day two of the Olympics to see Zambia's first Olympian Zane Jordan take to the pool in the Aquatics Center in the Mens 100m Backstroke. He finished 3rd in a field of three in a time of 58.77 behind Bradley Ally of Barbados and Heshan Unamboowe from Sri Lanka, neither of whom were fast enough to qualify for the semi final. Jade Howard is the other hopeful in the pool who is yet to compete in the womens event.
On the track 23 year old Gerald Phiri has the opportunity to compete alongisde 100m heavyweights like Usain Bolt and Tyson Gay when the heats begin on August 4th. Phiri will most likely have to better his personal best of 10.06 seconds to stand a change of qualifying for the semi final in what will be a tough field of competition. Meanwhile 800m runner Prince Mumba will have to wait until the first round of the 800m to be held on August 8th to attempt to qualify for the semi final.
19 year old female sprinter Choosea Chauzje will be competing in the premilinary rounds of the 100m event on the 3rd of August and with a personal best of 12.71 set in Benin this year, she's in great shape going into the games but will still have to shave seconds from that time to stand a chance of winning a medal, against a field that will likely run sub 11 seconds in a final traditionally dominated by the American and Jamaican atheletes.
Boxer Gilbert Choombe and Judoka Boas Munyonga are scheduled to compete in their respective events on July 31st. With Samuel Matete the 400m hurdles champion of the 1996 Atlanta games being the last Zambian to win a medal in Olympic competition we await to see if Zambia's medal drought will end this summer in London.