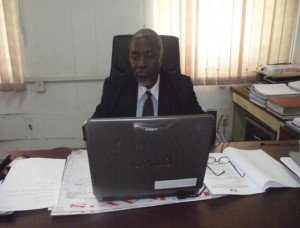 Everyone wants to own property. Some people own property for prestige. Others own property for sentimental reasons, while others own property for economic and commercial reasons. Irrespective of what ever reason that we own property, how much do we know the true worth of our property?
People and business have sold or bought immovable property and movable property such as land and commercial buildings, dwelling houses, or machinery and motor vehicles to mention but a few. What is the true worth of such assets? Are the values that are attached to these properties, which are as a result of market forces the real values? Why is it important to determine the true worth of property?
Kitwe online visited Rainbow Surveys Limited; a Kitwe based property valuation and property Management Company located at David Mwila house, suite 133. We caught up with Amos Kambenja the C.EO. He had this to say in an interview.
Q Who is Amos Kambenja?
A I'm Amos Kambenja, I'm an Evaluation Surveyor.
Q When and where were you born?
A
I was born on 19
th
December 1950, in Mwinilunga district of
Zambia
.
Q Tell us more about your family?
ANSWER: I have been married since 1975 and I had six children.
Q What is your academic and professional background?
A After my secondary education I pursued a Diploma in Town and country planning Technology at Zambia institute of Technology (ZIT as it was known then).After that I continued to pursue a Bachelor of sciences Degree course in Land Economics at the University of Zambia. Thereafter I went to Scotland to pursue my Masters of Land Economy at University Aberdeen.
Q What motivated you to undertake this career path?
A My being valuation surveyor was rather accidental, initially I intended to do Civil engineering. When I joined the Town and country planning Department i was compelled by my employers to pursue the same career, when I went to university of Zambia to do Town and Country Planning, there were no lecturers then. I decided to switch to Land Economy. That is how I found myself in this profession.
Q Tell us more about valuation survey and asset valuation, what does it entail?
A
Valuation surveys are the valuation of tangible assets, anything physical. The only thing that cannot be valued is a human being. It is the valuations of assets which appear as fixed assets in accounting
books
. We do it mainly for accountants. It is for the information found in the balance sheet of a business.
Q What are the main challenges in valuation surveys and asset valuation?
A Valuation surveys are quite challenging. Sometimes you may require undertaking valuation of assets that are of high technology and of a specialized nature, which require a lot of technical information in assessing their values. It requires working closely with other professionals in other fields in obtaining information that is required to do a survey on assets like plant and machinery. Such surveys are time consuming it is very different from the way we gather information that we use in valuation of land and buildings, which can be easily obtained from estate agents. When doing asset valuation one has to pay attention to great detail. The information we create of the true worth of assets is used in the work of other professionals such as investment consultants, Accountants, and investment analysts.
Q Do you think that it is necessary for an individual to do personal asset valuation?
A Valuations are done for various purposes. It is important for an individual to undertake personal asset valuation. When one wants to undertake an insurance policy, it is important to do an asset valuation. It is also required for one to do an asset valuation when wanting to obtain a loan from the bank. The banks would like to know the true worth of the assets that a person wants to pledge as security. We prepare valuation reports for such purposes. Above all even a person like yourself needs to do an asset valuation in order to know how you are ACTUALLY worth.
9. What is your general impression about property and estates developments taking place in Kitwe?
A
As you are aware, Kitwe and other Cities on the Copperbelt were essentially
mining
oriented. Properties that were there, are those related to mining. It is good that with diversification of the economy other types of assets are coming up, still including those that have been invested in re capitalizing the mines
.
Q What does that mean to you as an asset valuator and property management consultant?
A It means that with the growth of investments, we as valuation surveyors will have a lot to do in the determination of the real value of those investments in Kitwe and on the Copperbelt in general. It also is a challenge for us valuation surveyors based on the Copperbelt, having to value rare assets like the ones coming into the mines now. These are rare opportunities that other valuation surveyors in non mining Cities may not experience.
Q Who are Rainbow Survey Limited?
A Rainbow surveys Limited is a Survey company which has been in existence since 1993 .
Q What valuation work have you, as Rainbow been involved in since your inception?
A We have done a lot of valuation surveys. Our first assignment was the valuation of Kitwe Central hospital; we valued all the land and buildings and equipment at the hospital. Our next assignment was Zamtel throughout the country. Our biggest assignment was the valuation of Konkola Copper mines which we have done twice, we have done Chibuluma south mine (in liquidation).We have also done Ndola lime thrice.
Q To what do you attribute your success as a company?
A We attribute our success as Rainbow surveys Limited, to our ability to mobilize financial resources and human resources to undertake sophiscated surveys. We have attracted highly qualified professionals who give all their dedication to do a good job. That is the reason why we continue to attract high profile clients.
Q Do you have any work that you did that you feel you should have done better?
A In this job there is no room for error. We always do a very good job to the satisfaction of our clients. There is no work that we have not given off our best.
Q How do you combine work as lecturer at Copperbelt University and as C.E.O at Rainbow?
A Time management my brother. As a lecturer in advanced valuation and land policy, I have found it easy to fit into my lecturing schedule due to the fact that what I do as C.E.O compliments my work at the university. I find material and knowledge to use at the university from what I experience in the field at my company. This is largely a practical based profession. It is always easy for me to manage two jobs. As indicated, they compliment each other.
_____________________________________