Elders disagree on Arranged Marriage at a wedding reception.
SELITA by Madalas Band
The culture of pre-arranged marriages has existed in Zambia for a long time. This practice is found in other parts of Africa, Asia and the Americas. Such relationships are decided by members of the family rather than the couple involved. Family interests are given precedence over individual preference and romance.
Several factors influenced the decision:
Royal families the world over have been based on the belief of a privileged, superior family line that needed to be preserved.
The wealth of the involved family played an important part in considerations. Rich families wanted to preserve their wealth by marrying into wealthy families.
People who had achieved fame or attained prestigious careers were favorably looked on.
Social and religious beliefs were also considered. Families that were believed to practice witchcraft were shunned. It was also believed that the blessings of your elders brought prosperity, peace and long life.
The age of the man was believed to be important in as far as the man had to be older than the woman.
The bedrock of this practice was strong family ties and royalties coupled with ingrained religious and social beliefs.
The elders argued that
The institution of marriage was such an important pillar of society that young people needed the wisdom of the elders to guide the young in protecting and maintaining it.
Parents knew their child better than anyone else and they could use their experience to match them with someone who, their experience indicated, would be the best match for their child
Parents had their childrens' welfare at heart
Being in love did not equate to being able to make the important decision of compatibility. To a person in love, everything appears rosy.
Someone could pretend to be who they are not in order to marry into a desirable family, but parents are more likely to see through such disguises due to their experience
The practice brought unity between the families involved
Ancestral spirits approved of such practices
Compliance with the parents' wishes was a way of honouring them and of pleasing God
The low or divorce rate indicated that this was a wise way of marriage
Their decision was not based on transient beauty or appearances but on the consideration of deeper factors and experience of life
Young people are saved from making costly mistakes of marrying someone they later find to have been the wrong choice.
The parents got the pride of having brought up their children in the ways of the clan and exercised parental control over them
The young are shielded from the stresses of searching for the right partner
The system has worked for centuries. Is a young person going to stand up and say they all got it wrong?
Non-compliance was met with strong disapproval from the community. This made consideration of refusal to comply a difficult social repercussions that would last a life time – a life time of not belonging. Some parents disowned their children for refusing to comply.
In some societies, non-compliance has led to the family murdering their child for bringing shame on the family. Fortunately, Zambian practices never went to that extreme.
The line between arranged marriage and forced marriage is blurred when social pressure is brought to bear on the young couple.
The practice of arranged marriages is declining in Zambia as well as in other parts of the world. What has led to this trend?
Proponents of free romance-based marriage point out that:
Urbanization has reduced the social ties between families in the village
Urbanization has led to the introduction of people from other lands and cultures and yet have met each others needs
Success of inter-marriage has given confidence to those contemplating it and has detracted from the traditional arguments.
Inter-marriage fosters integration with different tribes and races, just as arranged marriages were sometimes used to cement relations between warring clans.
Parents can sometimes act with their own interests placed before their child's physical, mental and spiritual well being
Courtship allows two people to learn about each other and find out if the are suited to each other
The rights of individuals to choose who they are going to spend their life with, must be respected.
For society to function, there has to be a balance between the rights of the individual and the well being of society. Where the line is drawn is the dynamic subject of an ongoing social debate. Shifting that line has consequences: too far one way and the rights of the individual suffer, and too far the other way and the fabric of society is eroded.
Young people have to realise that marriage is a serious issue. The belief that you can always end a marriage if things did not work out wreaks havoc with the emotions of children and of those involved. That acceptance of the suffering of children as a price to pay if things do not work out is surely contributing to the desensitization of mankind to the suffering of others.
Progress should be a selective process of adopting what works rather than a wholesale rejection of past beliefs and practices.
A discussion based on facts and mutual respect will be more beneficial than name calling or emotional blackmail.
Constructive debate has resulted in governments setting minimum legal marriage age, the right of divorce and abolition of child marriages.
SELITA by Madalas Band

The song is a dialogue between the groom's uncle from Luwingu and the auntie from Ndola. The uncle is a proponent of arranged marriage, while the auntie believes in a less rigid approach to marriage. Selita is the name of the bride.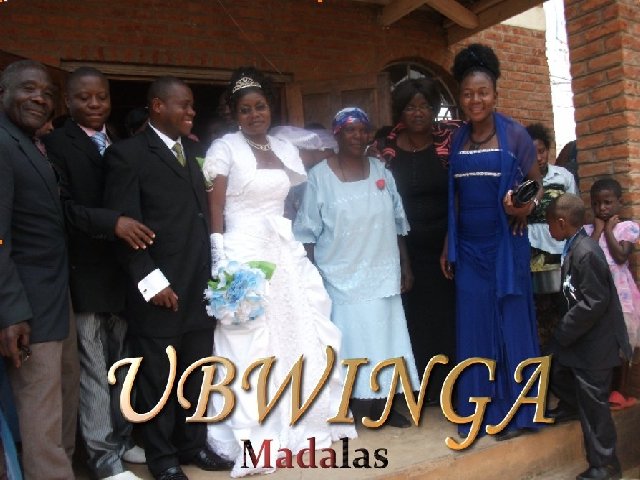 SELITA
Audio clip: Adobe Flash Player (version 9 or above) is required to play this audio clip. Download the latest version here. You also need to have JavaScript enabled in your browser.
Click HERE for Lyrics In Bemba and English.

Song written by Dr. John Sendama and John Katebe
Producer: John Katebe
Lead Guitar: Musompo Joseph Mbaita Mutemba
Bass Guitar: Gift Chisha
Vocals: Dr Kingstone Katebe
Supporting vocals: Dr K. Katebe, Dr J. Sendama, Elias Kashiba
Percussion: John Katebe, Rocky Mushika, Joseph Mutemba
What do you think about this song? And what do you think about arranged marriages? Share your thoughts by leaving your comments below.
_______________________________________________________
MUSIC DOWNLOAD BARGAIN