Zambians have always expressed themselves in song and dance while working and for recreation. There is archeological evidence showing that Zambians have been painting for at least 400,000 years.This aspect of Zambian creativity is less publicized.
Modern day Zambia boasts renowned artists and sculptors. They work with various materials, and most of them are able to produce beautiful pieces of art in different media. Prominent works have been featured on Zambian postage stamps and in Zambian museums.
Some of the well known artists are Flinto (Sylveste Mumbi Chandia), Stary Mwaba, Pam Guhrs-Carr, Mpundu Mutale, Friday Tembo, Aquila Simpasa, Kenani Zulu, Miko and Gabriel Ellison. Ellison has designed a number of Zambian postage stamps.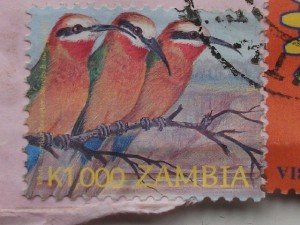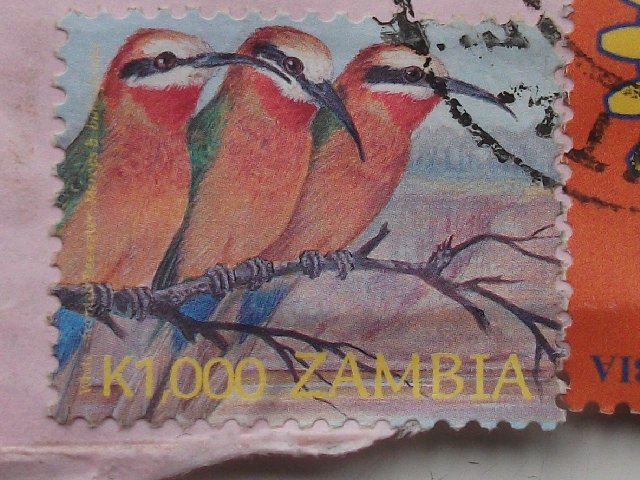 Other well known pieces of work by other Zambian artists include the Freedom Statue outside the Lusaka Museum and the Stone Thrower monument in Kitwe town centre.
The Henry Tayali Gallery in Lusaka has a large collection of paintings, sculptures and photos depicting the work of various Zambian artists.
Along the Ndola-Kitwe dual carriageway less well known artists and sculptors ply their trade. Hand-crafted curios are made from local woods including Mukwa.
Basket weaving and copperware are on display for passing motorists to stop and browse. Most of their work depicts various aspects of Zambian life, wild life and nature scenes.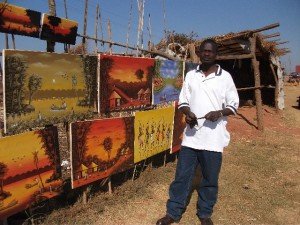 Prices for their work are negotiable, and they are willing to do commissioned work.
Stephen Chisanga (Mobile + 260 97 8610681), Kingston Musonda (Mobile + 260 96 4040312) and Jonathan Simfukwe (Mobile +260 97 9679000) have set up store on the North-bound side of the motorway.
They normally open shop around 08.00hrs and close at dusk.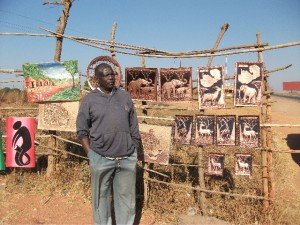 Jonathan Simfukwe also does basket weaving using local bamboo and reeds. These can also be used to make chairs, tables, flower pot holders, hats and many more items.
Kitwe does not have a museum, but the nearest is Copperbelt Museum in Ndola, on Buteko Avenue. Here you will find an interesting collection of mammals,birds, butterflies and moths. It also displays cultural and archeological material.
The geology section displays a wide range of stones mined around the Copperbelt.
Are you an artist, or do you know of any Zambian artists you would like to see featured here? Please feel free to get in touch with us.