Maurice Gersh (1906-1992)
Harry and Elie Susman were two brothers born to Jewish parents in the market town of Riteve, in Western Russia. After working as a peddler for a few years in Cape Town, Harry went with his young brother, across the Zambezi (at Kazungula) to buy cattle from King Lewanika of Barotseland (now Western Province) in 1901. They went on to become prominent traders in Livingstone and along the line of rail. They also dominated the Ngamiland (Botswana) cattle trade.
One of their two sisters, Dora Susman Gersh, had two sons, Maurice and Harry. Maurice was born in Jerusalem in 1906. He had lived in Russia and Lithuania before heading south to South Africa with his dad. Maurice reached Livingstone in 1923 and was joined by his elder brother (Harry Gersh) the following year.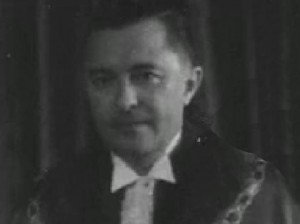 Maurice Gersh
Maurice Gersh worked for his uncles (the Susman brothers) in Livingstone (Pioneer Butchery & Bakery). He set up his own store in Livingstone in 1927.
The Gersh brothers took over Bwana Mkubwa Hotel and Ndola Butchery and Bakery in 1928. The recession of 1931-33 led to closure of mining operations and brought to a halt the construction work that had started in other mining towns. The Susman brothers sent their nephew, Maurice, to work in their businesses and to oversee the liquidation of some of their assets affected by the recession.
Maurice worked for some years with Copperfields Cold Storage & Northern Caterers in Ndola, Luanshya and Bwana Mkubwa. His brother Harry set up Economy Stores Ltd (Nkana and Nchanga) and invited Maurice to take care of the financial side of things .
With the establishment of Nkana Mine, the government of Northern Rhodesia wanted to set up the non-mining part of town to house the administrative machinery of the government. The government wanted private enterprise to under-pin this development. The government also expressed a need for Kitwe not to out-stage Ndola as the main town in the Copperbelt region. Maurice was actively involved in the negotiations that traders held with the government.
In 1935-6, a small number of powerful traders negotiated a deal that guaranteed them 20 years protection against competition. No competing township was to be set up within 20 miles of Kitwe trading area, and the Indian traders would not be granted trading licenses within that zone. Kitwe was a "closed township". Later on, Mufulira (1937) and Chingola (1945) were established on the same principles.
To watch the mayoral inauguration video (1954), click on the photo below:
KITWE RECEIVES MUNICIPAL STATUS
Click on photo below to watch video newsreel film of mayoral inauguration ceremony
Maurice was elected to the Kitwe Townships Management Board (KMB). He was also Kitwe's first mayor, elected in 1954. He won a second term in 1955. A measure of his energy and commitment was his membership to:
Northern Rhodesia Municipal Association – President

Kitwe Chamber Of Commerce And Industry – President

Northern Rhodesia Association Of Chambers Of Commerce

Hebrew Congregation in Kitwe – 1st president

Chairman of the committee that resettled Jews of German origin before the war

Chairman of the United Federal Party (UFP) in Kitwe

He was awarded the OBE (Officer of the Order of the British Empire)
Some of the other businesses he owned or had shares in included
Northern Rhodesia Cinemas

Radio Limited

Central African Motor Services (CAMS)

The Coca Cola bottling plant in Kitwe

Northern Rhodesia Textiles

Zambezi Saw Mills

Zambezi Airways

Copperfields Cold Storage Ltd.

Cable And Wireless Holdings

African Commercial Holdings

property building in Kitwe (included Afcom House)

Campbell Brothers Carter (CBC) Ltd.

Land Rover Assembly plant (Ndola)

Raine Engineering in Ndola

Lion Tile

Scaw-Tow Founderies

Fuller's Bakery

Kaleya farm Estates in Mazabuka
A prolific entrepreneur, such as Maurice Gersh was, entailed a high degree of social interaction and extensive networking ability. Other members of the Jewish community were also actively involved in civil and business life on the Copperbelt and elsewhere: Hyan Schuman was the first Jewish mayor of Ndola in 1937 and Dennis Figov was twice mayor of Luanshya. There were about 20 Jewish families around Kitwe at the time of its inception.
Maurice, with his wife Revée Melamed, played a big role in the rehabilitation of survivors of the Holocaust from Germany and Eastern Europe when they arrived on the Copperbelt. He was also the most politically active member in his family. Sir Roy Wellensky, the leader of the UFP used to stay at his house when he visited Kitwe.
Sir Roy Welensky (1907-91): Prime Minister of Federation of Rhodesia And Nyasaland
Source: Wikipedia: w:en:Image:Roy welensky.jpg
When the government sponsored the Northern Rhodesia Industrial Development Corporation (later known as Indeco) Maurice was the founding director.
A remarkable observation about his businesses is that virtually all his business activity was in Northern Rhodesia. It also gave him a powerful voice when it came to formulation of policy for the region. He was an advocate for the investment of the proceeds from copper sales in the establishment of a secondary industrial economy that would sustain the region when copper deposits were exhausted.
The political landscape was evolving fast in these times when development was segregated and the majority of the white settlers preferred to maintain the status quo.
In the late 60s and early 70s, Maurice sold off most of his businesses as going concerns
Even after independence in 1964, when most immigrants were leaving, Maurice continued with his businesses into the 70's.
He retired to Cape Town in 1971. Upon the death of his brother Harry in 1992, Maurice and Revée moved to Massachusetts in USA, near their daughter.
Maurice Gersh died on Wednesday, 11th December, 2002, aged 96. He left his wife of 64 years, Revée Melamed Gersh, a son and a daughter, grand children and a great grand child.
Like a tidal wave, the Jewish community in Central Africa has ebbed and flowed over the last century. They are intricately woven into our economic and social history. As more information becomes commonly available, it will be interesting to learn more about them as well as the communities that welcomed them.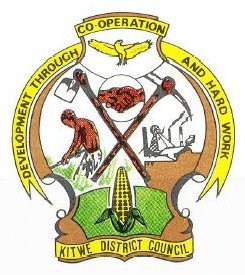 Kitwe Coat Of Arms
REFERENCES
Macmillan, Hugh, An African Trading Empire: The Story Of The Susman Brothers & Wolfsohn, 1901-2005. I.B. Tauris & Co. Ltd., 2005, p. 300-317

Macmillan, Hugh and Shapiro, Frank, Zion in Africa: The Jews of Zambia, I.B. Tauris & Co. Ltd., 1999

The Zimbabwe Jewish Community: http://www.zjc.org.il/showpage.php?pageid=112

Mwaiseni: http://en.wikipedia.org/wiki/Mwaiseni

Photos

ExZim All galleries/Travels/Kitwe

Bohl, June, Olden Days In Nkana: http://www.northernrhodesia.org/

Jewish South African SIG: https://docs.google.com/document/d/1b-rH6eKxATBD83ExI_qioQJ8husjFLk25GV07FjaeGo/edit?hl=en#

British Pathe: http://www.britishpathe.com/record.php?id=62408