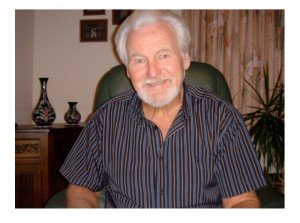 We were lucky after our arrival to be put up by friends, Jean and Clive Weir in their lovely home in Valley Walk just below the Parklands shops. Clive worked for the Copperfields Cold Storage At that time there was no government housing vacant and we faced a few weeks on the waiting list before we would be allocated a place of our own. We had brought out from the UK our boxer dog 'Toby' as we couldn't face leaving him behind with my parents. They would have loved to look after him but we felt that he would have been too much for them to look after him.
The first weekend after our arrival we were taken out to visit some friends of Jean and Clive in Ndola and we left Toby in the garden with the two Alsatians belonging to Jean and Clive. On our return we were devastated to find that Toby had disappeared and was nowhere to be found. He had escaped over the fence and despite spending some hours driving round the streets nearby we couldn't find him. We were both devastated and felt that we would never see him again. The following day, Sunday, we repeated the exercise but there was still no sign of him. We were very sad indeed. On Monday Clive's boss arranged for appeals on the radio to be made but there was no news forthcoming and we were coming to terms with the fact that we would never see him again.
However, two days later we went to bed as usual and soon fell asleep only to be wakened in the early hours of the morning by a scratching and whining coming from the open window. I should at this point say that all windows in the houses there were protected by burglar bars and mosquito nets so that you could leave your windows open without having the worry of burglars breaking in or being bothered with insects. So, out of bed to see what was in the garden imagining all sorts of animals never thinking what we actually found. Yes, unbelievably it was Toby looking very bedraggled and very dirty. We just couldn't believe our eyes ! Where he'd been we hadn't the foggiest idea but we let him in and he went wild. It was soon apparent that he'd walked for miles as all the pads on his feet were red raw and bleeding. How on earth had he found us ? He'd only been in the house a matter of hours before he'd gone walkabout and two days later he'd found his way home. We were so happy, life could only improve now.
The next few weeks were hectic. Clive found us a car, a VW Beetle, which cost us around £450 so we became mobile and I could get to school without relying on other people. We were shown round the town, the two department stores, CBC and the OK bazar, The Parklands area where we could go for bread and vegetables, where to eat out and then one evening, we were taken to the cinema. This was nothing like going to the cinema in the UK. It was always a social event to go out to the 'Biascope' as it was called there. It wasn't a casual affair, one always dressed up in a suit complete with a tie or in a dress safari suit complete with cravat and long trousers! One of my first purchases were knee length stockings and desert boots which the expatriates who had lived there for some time all wore. You could always tell the newly arrived men by the fact that very often they would insist on wearing sandals with their shorts and to compound their bad dress sense, some of them would wear short socks. It just wasn't done!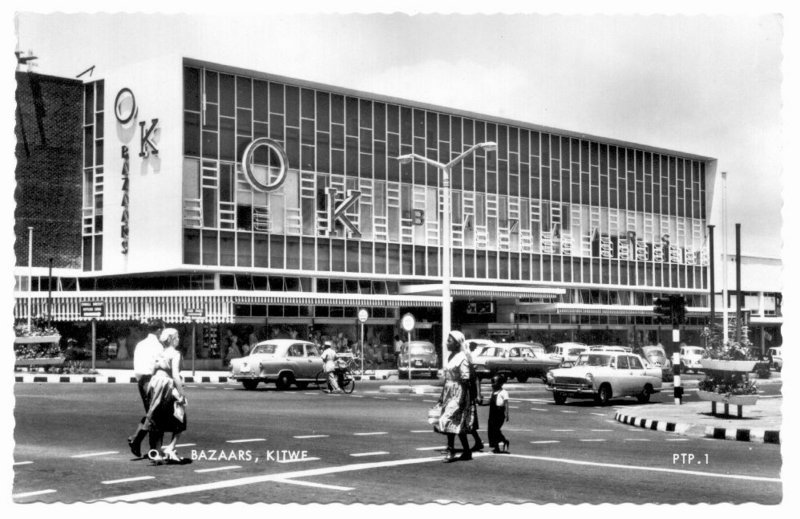 Photo courtesy of Great North Road
One of the first week ends after arriving Jean and Clive, with their two children, and us went south to one of the ranches owned by Clive's company. We took the one road which stretched the length of the country from the Congo through the copperbelt and on to the Victoria Falls on the border with Rhodesia (as Zimbabwe was called in those days). Clive told us that mile for mile it was one of the most dangerous roads in Africa with many accidents and fatalities. We drove for about two hundred and fifty miles through virtual emptiness on the way to Lusaka. the capital. Initially it was a novelty to drive through the bush but it soon became very boring. There were only one or two small villages along the length of the road other than Kapiri Mposhi, a small town which lay at the junction with the only other road in the country which went north up to Tanzania and Kenya.
After leaving Lusaka the road deteriorated so that at times we were driving along single tar strips. When you met a vehicle coming the other way you both had to pull over onto the dirt so that you could pass. You can imagine the dangers of that particular movement and the damage you could do to your tyres ! Eventually we turned off the main road and drove into the bush for some fifty miles or so to Lochinvar Ranch. It extended some hundred thousand acres with the River Kafue, a tributary of the River Zambezi, running through it. (To give an idea of the size, the Isle of Wight is only ninety thousand acres) and Len Pinshow, the Managing Director of the Copperfields Cold Storage had bought it hoping to run cattle there. Despite the fact that there was plenty of water all the year round from the river they soon found that the grass was too sparse for most of the year and it was totally unsuccessful for raising cattle. However, the Kafue River, a tributary of the Zambezi, ran through the ranch and the flood plains were an ideal habitat for the native Red Lechwe, an antelope about the size of a small pony which thrived on the poor grass on the plains. Of course, with a ready supply of food 'on the hoof' there were lions, leopards and cheetahs there and quite a few hippos and crocodiles too.
The farm buildings were exactly like the ones you see on any television about Africa. The single storey buildings had Corrugated iron roofs, an open terrace running right round them so that every room had a terrace off it. The manager told us about all the wild life to be found there and was very proud of the fact that there were something like two hundred species of birds which lived on the ranch. He was pretty peed off, however, with a certain Television wild life documentary maker who had recently visited the ranch to film the wildlife. Because he
wanted
the herd of Lechwe to run towards his cameramen he had set fire to the grass in one area of the plains to drive the animals towards his cameras. It caused havoc and wasn't something you would associate with such a well known wildlife photographer. He was told to leave and not to return, I wonder if he remembers it?
After a good night socialising when too much was drunk and eaten we were up early at the crack of dawn and we set off in a Land Rover to explore the ranch. This was real Africa. I rode in the open back of the vehicle hanging on to a handrail as we lurched across the ruts and ridges of the dirt road. The sun beat down and the flat plain shimmered with the heat. It was impossible to tell where the sky began and the land ended. I wasn't wearing either a hat or sunglasses, never having bothered with them before, after all I never had even in the south of France and I wanted to get my face brown.
We soon found the Lechwe and it was obvious why they were described as 'Red'. Their coats were a very light brown to start with and with the red dust of the plain on them they really did look as if they were red. There were hundreds of them on the flood plain near the river and it was obvious that any cattle introduced on to the farm could not compete with them for the grass. They weren't very timid and we were able to drive quite close to see them without them bounding off.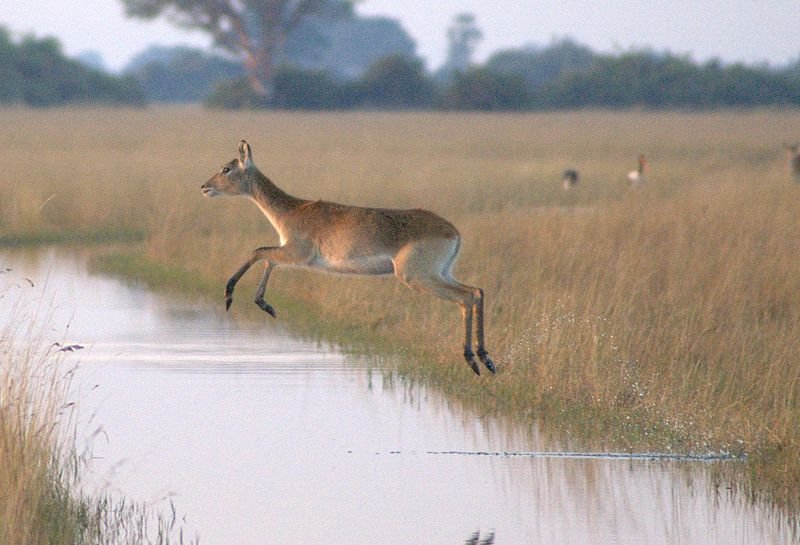 After driving for about twenty miles we reached the far borders of the ranch and then turned back. For our lunch we stopped by the sluggish river and went down to the edge of the water to eat our sandwiches. It was a good picnic. After eating we went off to explore the sand flats which stretched away into the distance. It was so hot you could feel the heat of the sand through the soles of your boots. As it was the middle of the dry season the river was quite low and we were warned to keep a sharp lookout for hippos and crocodiles. We wandered along the sandy shore for a little while and suddenly came upon an enormous hippo skull lying half buried in the sand. The big ivory tusks had been removed from the jaw already but I was able to extract three very large teeth as souvenirs, which I still have. Although we didn't see any live ones at least we knew there were or had been some around.
It was here that I met my first 'chungalulu'. Scurrying along in the sand was what I can only describe as an enormous millipede. About the thickness of my little finger and about six inches long its body was black, segmented and it had dozens of legs. It looked horrible but apparently quite harmless and we would see them everywhere we went.
During the walk back to the Land Rover I began to feel quite light headed. We had drunk a fair amount the night before and again during our picnic so I imagined it was a bit of a hang over and thought nothing more of it, thinking it would pass. When we got back to the ranch I still felt quite groggy so I decided to go and lie down for a little while. An hour or so later I was violently sick and the farm manager diagnosed that I was suffering from heat stroke. I had cold compresses applied to my forehead and given lots to drink. I never got out of my bed that night and during the drive back to Kitwe the following day I slept for most of the way. The air conditioning was turned up keeping my temperature down which made me feel a lot better. I learned my lesson that day, you can't fool with the sun in the tropics. Apparently everyone was very worried about my condition as it can be quite dangerous and I had become very dehydrated. However, I made a full recovery after a few days and had no long term effects. And so our life settled down in our new home.
__________________________
Do you have memories you would like to share? KitweOnline invites you to share a walk down your memory lane.