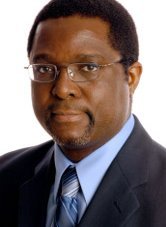 Dr Charles Malata has lived and worked in Luanshya, on the Copperbelt. He is now practicing in UK where he was voted one of the top ten surgeons in breast cancer reconstructive surgery.
"Mr Malata graduated in Medicine from the University of
Zambia
Medical School in 1984 as the best student in his class winning prizes for outstanding performance in Surgery, Paediatrics and Overall. He was also awarded the Shell-BP Prize for the best overall graduate in all the Schools of the University of Zambia.
Upon arrival in the UK in 1986 he undertook the final examination for undergraduate medicine and was awarded the Licenciate of the Royal College of Physicians and Surgeons of London (LRCP MRCS). Thereafter he underwent General Surgical training on the Newcastle & Leeds University Hospital Rotations obtaining the Fellowship of the Royal College of Surgeons (FRCS Glasg) in 1990. He then entered 9 years of Higher Surgical Training in Plastic Surgery starting with two years as a plastic surgical SHO in the Leeds and Newcastle Units.
From 1991 to 1994 he was a Research Registrar at Bradford University Plastic Surgery Research Unit and worked on a PhD laboratory research project on in vivo pharmacological modulation of silicone breast implant capsular contracture. In 1994 he became a Career Registrar in Plastic Surgery at Canniesburn Hospital (Glasgow) on the prestigious West of Scotland Training Programme obtaining the Intercollegiate Board Specialist Fellowship in Plastic Surgery (FRCS Plast) in March 1997.
In the same year Mr. Malata won the Mentor Prize in Aesthetic Surgery for his published work on a prospective comparison of smooth and textured silicone breast implants for cosmetic breast augmentation (British Journal of Plastic Surgery). He was also awarded a Scholarship of the Glasgow Royal College of Surgeons & Physicians and a BAPRAS Overseas Fellowship to undertake superspecialty training in Breast and Cosmetic Surgery in the USA from 1998 to 1999 at Georgetown University Medical Center (Washington, DC), Suburban Hospital (Bethesda, Maryland) and Emory University Hospital (Atlanta, Georgia)."