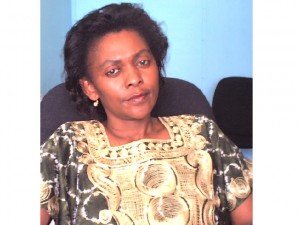 This week we present poems read by Ndindase, Sam Kabange, Fredah C. Nkonde, Webster Kamaloni, Barney Kanjela and
Leonard Koloko
,
And What If They Broke Wind in Public?
Such was our adoration of age as wisdom
That when elders broke wind in public,
Without hesitation, we named them patriots,
Congratulated them for jobs well done
And wished them many more years of service.
Enthralled by their display of human frailty
And their experience of the future in the past
We camped at their feet, silent and willing eyes
Drinking our fill from pregnant wisdom gourds
Measured and served in intricate webs of words.
We grew to know that no matter how long it may take,
The stammerer will give voice to his father's name;
The bastard, only the bastard points at his origin
Even though in ruins, with a sneering left finger;
No matter how dark, the black goat finds its trail home.
She had these two big pimples on her nubile chest
Robust and sprouting they were
They seemed threatening to pierce through her translucent tight blouse
Round-eyed we were glued to this mesmerizing beauty
Transfixed like a child with a phobia for snakes.
She giggled in ecstasy for all to watch in awe and mourn
As she shook her voluptuous bust
The two cherries ripped her seducing sky blue blouse
The sharp twins of red hot misty spears glared
At the snow-white clouds which were fondly caressing her.
The world has seen through sin enough nakedness
Suddenly, as if in embarrassment for having deceived the whole world this long
We want freedom. We want freedom.
Yes, we want freedom from our colonial masters.
But for how long will it take for this freedom to last?
For as long as it takes our leader to sit in the hot seat
AND refuse to get up when his people tell him they no longer want him.
AND still refuse to get up when his people start killing each other
And refuse to listen or watch BBC, CNN, Sky News because they
Tell him his people are slaughtering each other because of him.
Instead him and his wife sip wine as they watch his country women dance while.
For as long as it takes our leader to get his hands on tax payer's money
AND buys expensive property at home and abroad
AND deposit too much money in Swiss bank accounts which are bursting at the seams
AND wife shops abroad because local shops are closed for lack of goods
AND ensure that, where we had orchards, we have long grass
And where we had maize as far as the eye can see, we have bare land
Skinny dogs staggering around, too weak to bark
Children too weak to cry from the pangs of hunger.
For as long as we make sure roads are impassable, except by foot
AND all street lights are not working
AND all water systems are not working
AND street corners are mountains of stinking garbage.
For as long as it takes our leader to manipulate the
Country for as long as he can
AND build himself an extravagant, huge, wild tent which
He does not even sleep in
AND he terrorizes his own people.
When they told him he is no longer wanted
While him and his wife sip wine, watch belly dancers
And refuse to listen, or watch BBC, CNN, Sky News because
They will tell him he is slaughtering his own people
Then slowly, we search for new colonial masters
Who are slowly coming in all shapes and sizes
AND will tell us to our faces that –
There is no success or joy in being given something you do not deserve
Sooner or later you'll be left with a hollow unfulfilled feeling worthlessness.
But to work hard for something
To make your own place in this world bring immeasurable joy.
PP-plan while others are playing
SS-study while others are sleeping
PD-prepare while others are dreaming
WW-work while others are wishing
TT-listen while others are talking
SF-smile while others are frowning
CC-commend while others are criticizing
PQ-persist while others are quitting.
He is no fool who gives what he can't keep to gain that which he can keep.
I DO HAVE A COLOUR PROBLEM
I do have a colour problem
I see everything in Black
When I work at night, I don't see no neon light
And at Christmas nothing for me donned in white
I see everything in Black.
Black "Don Jones" who live in Black bodies
I do have a colour problem.
I come from a Black womb, enter a Black world
Filled with Black devils doing everything Black, that was bad.
In the Blackest colour of my mind, I created not enough colour
My soul filled with devils, sowing seeds of ugliness
Black magic, cast in shadows of past pains
Ugliness prevails, Black as sin.
Yet I entered a Black flesh that conceived a Black
Child who was taught on a Black slate by way of a Black word
I learnt about a Black market, put not sold by actual Blacks.
Money sold for more than its value
Yet I do have a colour problem.
So I write a letter in Black
I get Black-listed for speaking about Dark Continent
My mind like a sponge absorbing – yet like a mirror reflecting.
The rainy clouds of coloured rainbow
I am the Black sheep in my family
Yet I do have a colour problem
I see everything in Black.
I remember them telling me Black is not a colour
Colour is not Black, no colour is Black
Black makes sense, Black makes no sense
No sense being Black, not making – – – –
I just have a Black hole.
Firmly anchored in the sand
Battered by the sun, still I cope
A symbol of health, life and hope.
My roots run deep in the earth
Thirsting for life beyond my death
They anchor me safely and firm
Watering up my juicy-green stem.
Watching the vastness of the land
My stems race high into the skies
Yearning for a life of so few lies
They spread like may expectant arms
Reaching out for divine alms.
Standing so lonely and still
Waiting for desert showers of rain
To wash away my solitary pain.