Young Men In Influential Leadership Positions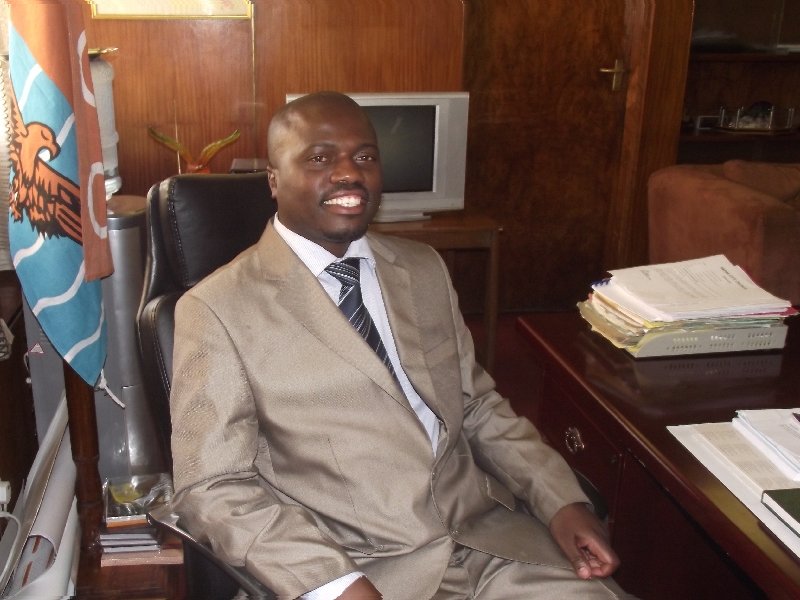 .
.
On 20th September, 2011,
Zambia
held presidential, parliamentary and local government elections. A new government was elected into office when the opposition party, the Patriotic Front won and its presidential candidate; Michael Chilufya Sata became the fifth republican president. The peaceful manner in which power was smoothly handed over by the losing Movement for Multi party Democracy presidential candidate, Rupiah Bwezani Banda, who was incumbent then, showed the growth and maturity of Zambia's democracy.
The growth of Zambia's democracy has seen wider participation of vibrant young men and women in the governance of this country at various levels.
Kitwe is the second largest city in the Zambia, elected the youngest ever mayor in the history of Kitwe's local governance, KitweOnline found time to speak to his worship the Mayor of Kitwe; councilor Chileshe Bweupe at his mayoral office.
Q Who is Chileshe Bweupe?
A.
Chileshe Bweupe is relatively a young man, born in Kitwe, raised in Kitwe, married in Kitwe. I have never lived anywhere else other than Kitwe.
Q When were you born?
A.
I was born on 20
th
May 1976, here in Kitwe.
Q What is your professional background?
A.
I worked for Barclays Bank from 1999 to 2004.
Q Tell me about your family?
A.
I'm married to Nkole Evelyn Mofya.We have four children, Chileshe, chisha, Chanda and Martina. I'm the first born child to Mr. Luis Chanda Bweupe who was a miner and my mother is Mrs. Emerisiana Bweupe, who recently retired as head teacher at Mukuba High School. I have been married for 11 years now.
Q What are your views of politics in Zambia?
A.
Politics in Zambia are evolving and maturing. Remember we are coming from a one party state, where all ideas were pulling in one direction and now we have a multi party democratic state. Now with the coming in of the patriotic front it is becoming very clear that if you don't deliver as a party in government people will chuck you out. There is need for the people now in power to deliver to the people that they lead.
Q What are your views about local government system?
A.
The past Government, the MMD has destroyed Local government. Local government is called from the cradle till you die. It is the organ of government that is closest to the people. It is through local government that a government can make an impact in its delivery system because of its closeness to the people. Soon after independence up until the early 70's local government was very vibrant. I wish to remind you that until 1973, all services such as electricity were supplied by the council, until Zesco was set up around that year. Water was also delivered by the council, now you have Nkana water and sewerage company, motor vehicle licensing was also done by the council, now you have RATSA, and many others. Remember, areas like Chimwemwe, Buchi, Kamitondo, Ndeke and Bulangililo were all council houses where the council used to collect revenue. On one aspect you may say it was about empowerment and we can collect rates, but the council lost its revenue base. So we have seen that the Central Government has taken away income streams for the councils yet we are still expected to deliver as councils from the little income that we generate, hence the short comings that we have.
Q What are your goals or priorities as Kitwe mayor?
A.
To begin with, Kitwe is the second largest City in Zambia. It needs to look like a City. It looks disorganized. It's disorganized that, I'm not proud to say, it looks like a city that was ravaged in a civil war. It is unlike Lusaka where you see developments everyday. There are shopping malls being built in Lusaka and yet we are struggling to even build one. Our road networks are pathetic, street lighting is poor, our drainage is poor and in smaller townships, the garbage is a mess. There are so many challenges. My goal is that during my tenure we begin to bring sanity and order to the city and begin to make it look better.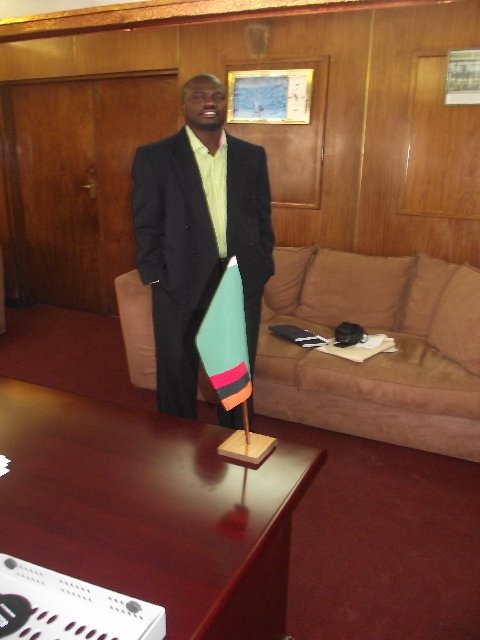 Q What do you see as your challenges as mayor?
A.
Like I said before, the high unemployment levels, street vending in the city, street kids, poor infrastructure. Like now the only modern building in Kitwe worth talking about is Mukuba pension House which was built in 1990 something.
Q What have been your best moments in life?
A.
I think one of my best moments in life was when my first child was born, it was a first experience for me where I think God is gracious and has allowed us to be who we are and to bring a new being into the world.
Q Do you have any regrets in life?
A.
Of course there are regrets in life, but those are the things that make us develop and make us better people than we are. When you look at them and then turn them into positives, because if you don't examine your weakness you can be static.
Q What are your hobbies?
A.
I like rugby; I'm the secretary of the biggest rugby club, Diggers club. Iam now vying to be chairman of the same club. I love watching Liverpool football club and I love watching Real Madrid. Basically in sport, that is where Iam.
Q Tell me about your favourite music?
A.
I used to enjoy what people now call Zambian music, like the one played by Dandy Crazy, but what disappointed me was that I didn't realize that those guys actually mime. There was a time when K Millian came to play at Cricket club it was so nice and it was jam packed, the next time, just a week later I went to watch him play at Cinderella night club then the CD he was mimicking skipped. From there on I had second thoughts about such music. I stopped listening to that, I mean with no offence. I liked watching live music by P.K Chishala, Mulemena boys at Buchi Hall. But other than that I enjoy Rock music and house.
Q Do you have any special interest in life besides politics?
A.
Like I said I enjoy rugby, I enjoy out door life. I have never been to a game park in my life. I would like to one day go out to the game park with my family either this year or next year.
Q Who has influenced you the most in life?
A.
The person who has influenced me a lot is His Excellency the President Michael Chilufya Sata. I think Iam one of the few who are privileged to sit with him and talk to him. I campaigned with him and when you sit down with him he would tell you how Zambia was, how it is now and how it should be. To me there can be no other person than him for inspiration. The other person is my late Uncle Mr. Gabriel Mubanga the brother to the current finance minister, Mr. Alexander Chikwanda. I would be sipping my whisky coz I like my whisky and he would be drinking his wine and then we would talk and talk and talk. Oh! how I loved that man.
Q What do you like about Kitwe?
A.
I was born here, married here and now made mayor. What I like about Kitwe is that we are all one family. Everyone knows the other person, we embrace each other. We are not like what my younger generation would say: plastic people, like in Lusaka where every one wants to show off. We all live simple lives and we are simple people. We are real.
Q How do you see the future of Kitwe after copper mining?
A.
Firstly it is good to acknowledge that we are a mining town and we largely depend on Mopani Copper mine. If Mopani had to die then we all die. I think that we should begin to draw lessons from the experiences of Luanshya where everyone was affected when the mines closed down. We need to begin to change our thinking and diversify. We are lucky that Mopani has increased the life span of the mine for the next 25 years, but what happens after that? We must begin to plan such that by the time the life of the mine comes to its natural end when copper is depleted, we will be ready to move on with other sources of livelihood as a people of Kitwe.
Q How would you like to be remembered as mayor?
A.
I would like to be remembered as a person who
wanted
to bring about development and change in the lives of people in Kitwe. Iam not saying that I will do everything but I mean that I will start developments that will benefit our people. To develop is not easy. It is not like switching on electricity where just upon switching on, everything comes to light. Development is slow. Destruction is fast paced. The MMD destroyed a lot of things in their management of this country. Most of which will take long to re-build. It will take long to turn around this city.
I would like the people of Kitwe to be left a legacy that they can be proud of. I would like the people of Kitwe to guard infrastructure that is monumental and historic, such as Nkana stadium, Arthur Davies stadium and others. I would like to see improvements to these structures so that they can bring pride to the City of Kitwe.
I want in my time as mayor, we should begin to build new infrastructure. We should also start having shopping malls like in Lusaka. There are structures like the NAPSA building, the site where Nkana Hotel used to be and where Astra used to be, I don't know what is happening to those places but we need to build more modern structures there.
Q What is your personal mission in life?
A.
My mission is to add value to what I do. There must be added value to whatever I touch.
Thank you your worship, it's been a pleasure for Kitweonline talking to you.
___________________________________________________