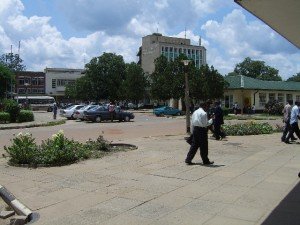 Mr Shadreck Zulu is the Director of Edingeni Estates Ltd., a Kitwe registered
Real Estate
Agent.
Mr Zulu worked for Zambia National Building Society (ZNBS) from 1977 to 1993. In those days there were no estate agents. Everything was nationalized.
In the early 90's, the market was opened up. Edingeni Estates was one of the early starters. Other estate agents set up stall in the city, but the standards were not always acceptable. An act of parliament in 2002 introduced the regulation of the industry. All estate agents are now required to register with the Zambia Institute Of Estate Agents. They are also required to abide by the official code of conduct.
Property in Kitwe was mainly owned by Zambia Consolidated Copper Mines (ZCCM). The privatization of ZCCM started in 1997 and was concluded in 2000. This led to miners being offered the houses they occupied as part of their terminal benefits. The market was suddenly flooded with cheap properties, and house prices plummeted all over town.
Since then, copper prices have improved on the world market. Property prices have stabilized and have climbed to dizzying heights as the economy recovered and prospered.
Kitwe's commercial district has long been known to be too restricted, being hemmed in by residential properties. The pressure led to its early expansion into Nkana West. The nineties saw the conversion of residential properties into offices there.
Kitwe City Council is keen to see the residential properties in the center of town converted to business plots to help accommodate the ever increasing business community in Kitwe. Residents in the center of town, all the way to Kitwe stream have been notified to make the change. This has led to inflation of house prices in the town center.
Property prices in Riverside, Parklands, Garneton, Ndeke Village and Kwacha East have grown more organically and more closely reflect the appreciation of property prices as business booms on the Copperbelt.
Mr Zulu has been a witness to these changes in property prices. Here he gives us some idea of the approximate current property prices in various parts of Kitwe:
A house on Central Street in Nkana East was going for K50m in the 90's. In less than 20 years the value has increased over 400%. This is an increase of about K14m per year! Put another way, property has appreciated at more than K1m each month.
If anyone had any doubts about the wisdom of buying property in Kitwe, then this surely will illustrate that it is a very wise way of investing your money.
Luanshya, Mufulira, Chingola and other Copperbelt towns are following in the same trend. The planned dual carriage way between Kitwe and Chingola (to the North) and the upgrading of the Lufwanyama road (to the West) will lead to more business coming to the hub of the Copperbelt. Things are looking up for Kitwe.