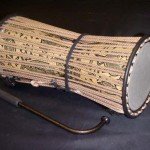 African Talking Drum
Photo by : っ @ wikipedia.org
Successful companies apply the science and art of advertising at each of the six steps of the buying process (Hierarchy Of Effects Model):
Awareness

Knowledge

Liking


Preference

Conviction

The Actual purchase
Advertising may be defined as "the business of trying to persuade people to buy products or services." (Cambridge Dictionaries Online).
The aims of advertising are:
To verbalize or visualize the customer's need
Educate them on the available solutions
Explain the characteristics of your product or service
Highlight why your product is the best fit for their needs
Inform of the price
Close the sale
Increase sales
In summary, advertising creates attention, interest, formation/change of an opinion, desire and ultimately precipitates a buying action.
A stranger has to discover your product or service and get to like it. They have to become convinced that your product or service is the right one for them. The more convinced they are (branding), the easier it is for them to resist price competition and stay your loyal customer. They will also act as your ambassadors and spread favourable word-of-mouth. This all translates into more sales and repeated sales for your business. It also allows for expansion of your business, which will need even more advertising.
Closer to their purchasing decision, the customer conducts their own research to compare and contrast similar products or services. If the relevant information about your offer is available to the customer at this critical stage, you have an advantage over your competitors.
Whether you are a small business or a large one, your customer goes through these stages before they finally buy. They tick their own boxes as they assess you. Their interest comes first in this process, rather than your brand.

It goes without saying that quality is key to success. Good service is another key tool in your arsenal. If you treat them right, they will want to come back for more, and they will spread the message in social fora about how good you are.

The customer's assessment of you does not end when they buy. They will be assessing their buy against your claims and pledges. This is part of what will determine the long term relationship they develop with you. If you are in it for the long haul, you cannot afford to ignore this phase of your sales. Honesty and integrity will stand you in good stead.
Advertising is not just just for big businesses. The same reasons big businesses advertise apply to small businesses. Most businesses in Kitwe are still limiting themselves to the old Chisokone Market Advertising Strategy: wait for a customer to show up and then aggressively pitch to them like your life depended on it in the two seconds you have before their attention is attracted by another vendor!

Small businesses found it difficult to compete against larger ones because of the prohibitive cost of advertising. Modern methods of advertising have leveled the playing field in very dramatic ways.Even your Chisokone Market stand can now have an effective internet presence.

Now it is possible for an individual business person to get FREE, laser targeted advertising. It's now a question of how much you want to succeed in your business and whether you will make the relatively small effort required to get your business noticed.

Like politicians before an election, successful companies like Coca Cola take advertising very seriously. They don't make the cardinal mistake of taking the customer for granted.

Consumer behaviour research has shown that attitude change can be effected in one of two ways:
The customer is genuinely persuaded that the offer meets their needs

after balancing the pros and cons.
The customer is made to associate the offer with positive or negative cues, eg good recommendation from a trusted friend or from an expert.

Stages of Buying

Your awareness of these different phases put you in a better position to plan, execute and audit your advertising campaign.
So, Why Advertise Your Business?
Why do successful companies like Coca Cola continue to advertise so pro-actively?

By advertising, you will:
Attract new customers


New customers go through stages of decision making

Advertise to keep your name in their memory when they make the final decision to buy

Attract future customers

They may not buy today, but the information stays with them

Retain your current customers

Advertising helps you build your brand. Customers start to want to associate with your name.

Win back old customers

Stay in touch with marketing trends

What is attracting customers?


Your competitors will change prices and tactics

Effective advertising helps you stay in touch with these changes

Match the marketing moves your competition makes

Maintain long term dominance in the market


Research shows companies lose customers when they stop advertising

Maintain employee morale

Employees feel good when their company is talked about in a positive light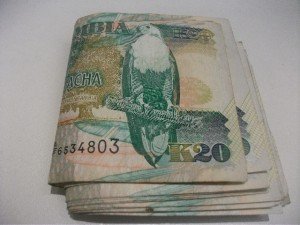 A good advertising campaign should be

– Targeted
– Creative
– Directional (driving towards the sale)
You want to be easily found, and you want your customer to be able to do business with you as conveniently and effortlessly as possible.

For immediate sales, you want the type of customer who is ready to buy from you. If a person is looking for the goods you sell, then chances are higher that they will buy than if you approach passers-by and try to convert them into buyers.
When it comes to deciding which medium to advertise in, one of the simplest ways is to put yourself in your customers' shoes:
Let's say you run a Guest House in Kitwe, and I am a potential customer making an unplanned trip from Lusaka. Which source of information am I likely to use in order to find a quick fix for my accommodation in Kitwe? Am I going to look for the nearest radio and listen to each advert and hope a Guest House in Kitwe is going to air their ad?
TV? – But I'm already at the coach station and am unlikely to get my information in the course of my journey!
I could grab a news paper and hope for the best.
The fact that all major news papers in Zambia also publish their papers on the internet is sending a strong message that even they realize that the power to reach more people is multiplied on the web.
I need precise information about quality, price, availability, location and testimonials (from people who have used the service in the past) in order to make an intelligent choice. The first Guest House to give me the information that most closely meets my specifications will most likely get my business.
Kitwe has thousands of businesses, small and large. The majority have no advertising policy in place. Are you one of them? Or did you start with a sign post and then left it to chance?
As a business, are you putting yourself in a favorable position? Which forms of advertising are you actively using at the moment? Take a piece of paper and write them down.

Next week we will look at the various forms of advertising and some easy practical things you can do to immediately step up your advertising campaign.
What An Advert On A Piece Of Cardboard Did
For A HomelessTed Williams: