Bemba Lesson 8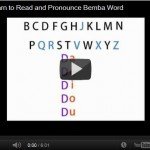 Learn how to read Bemba using simple methods.
The Bemba language is broadly based on the English alphabet.
Most words are based around the five vowels: A,E,I,O and U. (Vowel = A sound made by allowing air to flow freely through the mouth and throat)
When you take away the vowels from the 26 letters of the English alphabet, you are left with 21 consonants: B,C,D,F,G,H,J,K,L,M,N,P,Q,R,S,T,V,W,X,Y and Z ( Consonant = Sounds made by the partial or total obstruction of air flow in the mouth and throat. This can be done with the lips, the teeth, the tip of the tongue or the back of the tongue)
Except for the six letters of the alphabet that are either rarely used (J) or absent altogether from the Bemba alphabet (Q,R,V, X and Z), most of the consonants are pronounced the same as in English: B,C,D,F,G,H,K,L,M,N,P,S,T,W, and Y.
Most Bemba words are formed from a combination of a consonant followed by a vowel to make a distinct sound. Such a sound is called a syllable (= the letters of a word that are pronounced as one unit).
Simple words will usually be made up of one consonant followed by a vowel, e.g. "Ma"
For now, however, we will start with the very simple sounds that help you speak and read more easily.
You don't need to worry about the five letters of the alphabet that are absent from the Bemba alphabet. (Q,R,V, X and Z). The letter "J" is a special case which we will discuss later.
The Bemba alphabet is different in another way; it contains a unique letter "ɧ" . To make life easier when typing and writing, this letter can be represented by "N'g". It is pronounced ""n'g" as in the English word "singer"
Watch the video to learn a fast way of reading and pronouncing Bemba words.
Now that you are comfortable with syllables that are made of a consonant and a vowel, take a look at some Bemba words and have fun working out how to pronounce them using the method you have just learnt here.
Here are a few examples for you to read:
Awe (N0)
Leta (Bring)
Sala (Choose)
Kola (Intoxicate)
Pepa (Pray)
Belama (Hide)
Isa (Come)
Fuma (Go out)
Look out for a follow up on this lesson in the near future.
_____________________________