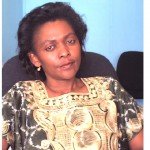 From the last gathering of poets at Kitwe Poetry Corner, here is a poem read by Barney Kanjela.
Complex, vexing, mind boggling and unpredictable
Be it weather, terrain or rain.
Diseases, wild animals and wars,
It enjoys both north and southern hemispheres weather patterns.
It has an incomparable beauty
What a region! A region of lakes, cataracts, caves and rivers.
A marvel to look at from the heavens yonder.
But the soil cries out to its inhabitants
Concrete jungles are encroaching the real jungle
Nature disappears, animals scamper
Anthills have disappeared and become tourist attractions
It is one of comedy, melodrama but mostly a tragedy
Of pain, anguish and torture
Once upon a time, a long time ago
There was so much land! when kalulu the hare could talk,
every piece has been demarcated
cutting tribes regardlessly.
One day! It is either it leaves us or destroys us
————————————-