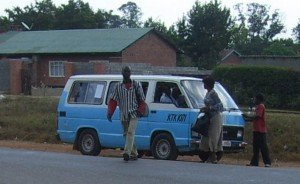 Travelling around Kitwe, the commonest form of transport is the mini-bus. Zambians are friendly people and this is one of the best ways of interacting with fellow residents. It is also the cheapest.
There are now more mini-buses than before and it is they that line up waiting for passengers, rather than the other way round. These are privately owned but are regulated. The quality of the mini buses is constantly improving.
The roads around Kitwe have recently been repaired, so journeys now take shorter and are more comfortable.
Minibuses servicing different parts of the city pick up passengers on Oxford Street and Chisokone Avenue, near the train station.
Kitwe Main Bus Stop (KMB) is the second most important stop for local minibuses to the North-West and out towards Kalulushi.
Current (January 2011) bus fares are displayed in the table below:
Buses to Nkana East, Wusakile, Ndeke, Chamboli, Lwangwa and other southern destinations stop in front of the train station. Most of the ones towards Parklands and Riverside are on the northern side of Oxford Street.
Buchi, Kwacha, Kamitondo, Bulangililo and Chimwemwe buses are near the Euro Bus Stop on Chisokone Avenue.
_____________________________