Who is Dag Hammarskjold?
Football fans on the Copperbelt associate the name with what was Ndola's biggest football stadium, soon to be replaced by the new stadium at the start of the Ndola-Kitwe Motorway.
I fondly remember the name because the biggest and best library in Kitwe, based at Mindolo Ecumenical Foundation, was named after him. Every weekend I could, I walked the 10 kilometers to the library, from Chamboli, and there I would lose myself in the treasure trove of books I had discovered.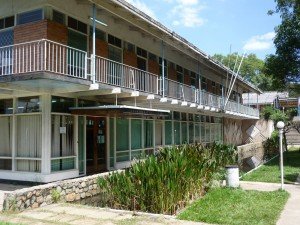 John F. Kennedy said of Dag Hammarskjold: "I realise now that in comparison to him, I am a small man. He was the greatest statesman of our century."
Dag Hammarskjold was Swedish. He was Secretary General of the United Nations in 1953, and was re-elected in 1957. He was involved in brokering peace between Israel and the Arab States, China and United States, Egypt on one hand and Britain, France and Israel on the other(Suez Crisis).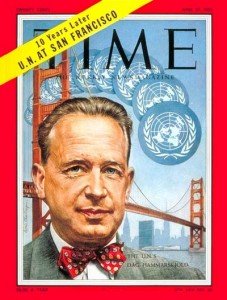 In 1961, UN forces were fighting Moise Tshombe's troops in the Katanga province of the Congo (formerly a Belgian colony, now the Democratic Republic of the Congo). Dag Hammarskjold was on the way to negotiate a cease-fire when his plane crashed near Ndola.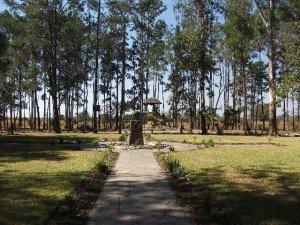 A memorial site was erected at the scene of the plane crash. The museum is located on site, opposite the ant hill at the foot of which Dag Hammarskjold's body was found. It was opened by Dr Kenneth Kaunda in 1981.
A gazebo has been erected on top of the anthill. In the central opening is a pillar surrounded by plaques left by different heads of state and dignitaries who have visited the site. These include: H.E. Mr Kofi Annan, Joseph Kabila, Dr Salim Ahmed Salim, Mrs Lee Goldman and HRH The Duke of Gloucester,
Mr Richard Hanguwa is the Site Manager. He explained that Zambia's Natural Heritage Conservation Commission has empowered him to redo the exhibition and bring the story of the people who died in the plane crash to the attention of the public. They are making more improvements to the museum and the other exhibits around the site.
The Commission is also involved in preserving other heritage treasures nearby, including the (now fallen) Mofu Tree, the Slave Tree on Makoli Road in Ndola (in conjunction with Mukuba Hotel). A new plaque has been prepared for the Mofu tree.
Jacob Phiri is the Conservation Assistant. With his friendly smile he welcomes visitors and takes them around the site.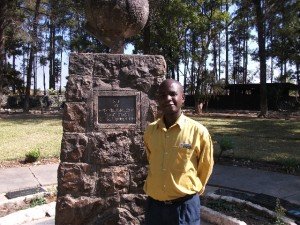 Mr Phiri pointed out that Lake Chilengwa, 16km East of Ndola is another worthwhile destination that many people do not know about when they are touring the Copperbelt.
Lake Chilengwa is a sunken lake, in the underlying limestone, without a beach. The edges drop down over 30 meters to the water level. The lake is over 20 meters deep. The Lamba people have folklore associated with this lake, but that's another story.