A work in progress… Next time you walk down the street, wherever you are, take a good look around you. You are watching history from a privileged front seat. The sights, sounds and smells around you are the ingredients of a historic time capsule. Someone down the line will look back one day, and wonder what it was like to walk where you are walking today. Today is history in the making. YOU are a history maker. History will be incomplete as long as it does not chronicle YOUR experiences today. That's how important each human being is.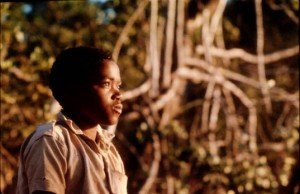 Brian Barratt took this photo in the 1960s on the shores of Lake Bangweulu. He has recorded his thoughts on his nice website (http://www.nrzam.org.uk/BrianBarratt/Brian.html):
"While I was gazing out over the water, and watching the sun slowly rise, a little boy came and sat nearby. He, too, just gazed into the distance. I didn't speak to him, because I thought he might be saying his morning prayers……"
This could also be the only photo in existence, of someone's grand father! Think about that for a moment. Compiling historical records is an enormous challenge and responsibility. It's a massive jigsaw puzzle and every piece counts. It is also enormously satisfying. Brian's website is a gem and provides nuggets like this aerial photo of Kitwe's Independence Avenue running North from its junction with Oxford street (bottom).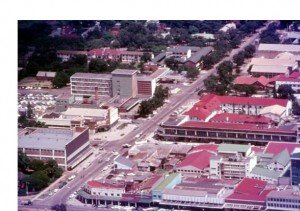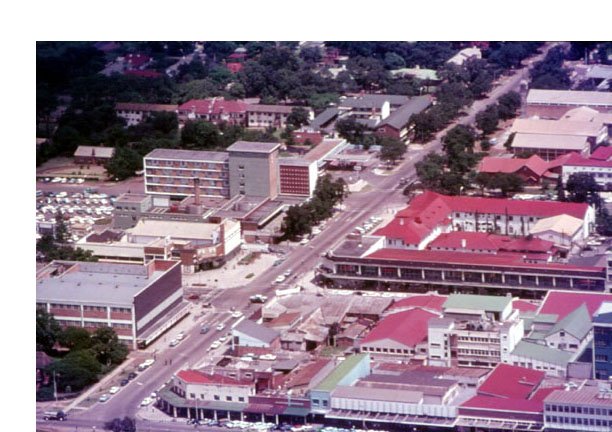 Between OK Bazaar and Edinburgh Hotel on the left, you can see the Astra Cinema building from which roof this photo (below) was taken: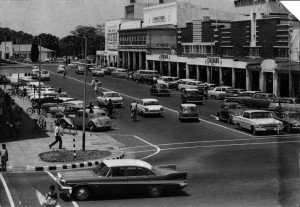 Looking East along Matuka Avenue towards the City (Kaunda) Square
(source: http://www.nrzam.org.uk/GMLife/GMLife.html).
Like the modular robot that re-assembles itself when kicked apart, the internet is furnishing us with a tool that allows pieces of the historic jigsaw puzzle to creep towards each other to recreate a beautiful work of art.
To read about The Early History Of Kitwe, click here